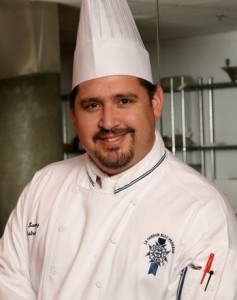 Education:
Associate of Occupational Studies, Culinary Arts – California Culinary Academy – San Francisco,CA
Experience:
Beginning my culinary career following high school, I was the lead baker at Emil Villa's Hick'ry Pit in Sunnyvale, CA. After which I moved on to manage Fargo's Restaurant and Bar in Mountain View, CA.
After receiving my Associate of Occupational Studies at CCA I moved to London, England where I worked under Chef Anton Edelmann, a noted Master Chef, at the Savoy Hotel River Restaurant, feeding many dignitaries including Queen Elizabeth II. Returning to California to begin work at Club 19 at Pebble Beach Resort and Spa, Under the careful watch of Hubert Keller, I was in charge of the grill, vegetable, and dessert stations. 
September 11, 2001 was a turning point for me. Having to be laid off from PB for lack of business, I found work as a Banquet Manager/ Chef de Cuisine for Elegant Events Catering. Upon my return to CCA as an instructor, I would be found teaching a variety of classes in both the front and back of the house. In 2010, I was nominated for Educator of the Year for the entire company by my students and peers.
I then moved to Institute of Technology in Modesto, CA where I taught culinary students the art of Baking and Pastry.
I am currently the Executive Chef at CSU Stanislaus working to create tasty and healthy food for the students, staff, faculty and the public in Turlock, CA.